Conserving Waterfowl One Trained Retriever At A Time
River Ridge Kennels offers Basic and Advanced Level Gun Dog Training that is designed to enhance the natural retrieving instincts and abilities of your hunting companion.
As avid sportsman dedicated to preserving the quality of the hunt and our hunting environment, we at River Ridge Kennels recognize the tremendous value and pleasure of hunting with a well-trained waterfowl retriever.
At the Basic Level, your dog will be trained to perform single retrieves on land and water, steady to shot, deliver to hand and simple handling for blind retrieves.  Each dog is exposed to retrieving from a hunting blind, stand, and boat to replicate the diverse environments they may encounter.
At the Advance Level, your dog is trained to the AKC Senior Hunt Test standard, capable of performing multiple "marked" retrieves on land and water, "blind" retrieves on land and water, and "honor" the retrieve of another working dog.
With access to over 2000 acres of training grounds, your retriever will be exposed to a variety of hunting conditions to ensure consistency and quality in any environment.
Space is limited in our Gun Dog Training Programs to ensure your hunting partner receives the individual attention and dedication you expect. Please contact us so we can discuss your desires.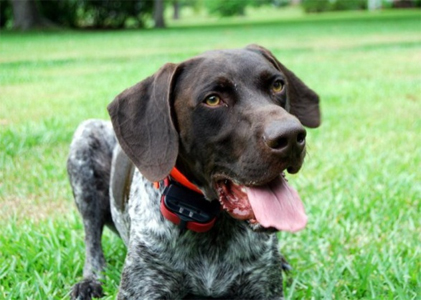 Obedience –The Foundation For Every Good Gun Dog
The story of Amos is a special one. I got Amos when he was 1 1/2 years old. The person that owned him got him as a puppy and had difficulty handling his high strung, and strong headed behavior. He embarrassed his previous owner at a fun hunt when he was 8 months old. Amos was placed in the back yard and left there until I rescued him. The first night at my house he got loose and ran the neighborhood for 2 hours. He would not come at all. I took him to Bill for 30 days of obedience training. At the end of the 30 days he was a completely different dog. He would sit, stay and heal. And most importantly COME. The weekend I got him back I took him to an AKC hunt test were he passed with two straight runs. The following weekend two more straight passes and the title of Junior Hunter. I later started competing in Shoot To Retrieve trials were he has done very well. He has placed in the top three, 7 out of 11 tournaments and placed first, in the doubles Top Gun Challenge.
Mark Amell
"Back in early spring of 2012 I had my 2 year old yellow lab (Pearl) training with Bill. It's now the end of November and after working Pearl through the summer and into our first duck season I can without a doubt say that Bill Mattes was EXACTLY what my dog needed . Bill gave my dog the time I couldn't give her, he fine tuned her to be an excellent hunting retriever. I couldn't be happier. Pearl has made many flawless retrieves this season and some not so flawless, but there is one thing for sure.... she wouldn't be working like she is if I had not given her to Bill."
Thank You.
Capt. Steve.
"Would like to thank Bill Mattes and his family from River Ridge Kennels for such an awesome dog and the training she received from you and your wife."
Stephen