At River Ridge Kennels we understand that a well mannered dog is what every owner desires to have in their lives. We offer obedience training for All-Breeds, tailored to the individual needs of the owner and their dog. Our basic obedience program is designed to provide an understanding and willing obedience to the fundamental commands of sit, here, down and heel. Taught with patience and encouragement, each dog is exposed to a variety of environments to ensure your pet responds positively and consistently in the home or in a public setting.
AKC Canine Good Citizen® Program: River Ridge Kennels is an approved evaluator for the AKC Canine Good Citizen® Program. To discuss evaluation of your canine companion for certification as an AKC Canine Good Citizen® please contact us at (910) 548-1843 during normal business hours.  To learn more about the AKC Canine Good Citizen® Program please visit the AKC website at: http://www.akc.org/dog-owners/training/canine-good-citizen/
River Ridge Kennels offers two obedience training options. We are focused on the QUALITY of training vice QUANTITY, limiting the number of dogs in our program to ensure each dog and their owners receive the individual attention they deserve.
The first option is a 30-45 day board and train program where your dog stays with us and learns the basics of sit, here, heel, stay and several other elements of the AKC Canine Good Citizen (CGC) program to include working in and around other dogs and people.  We do our best to finish up each dog in 30 days, but as you can imagine each dog learns at a different pace and brings with them their own unique "challenges".   
The second program we offer is a weekly training class, conducted here at our facility on Sunday evenings for an hour.  The course is 6 weeks long during which we teach/practice all ten elements of the AKC CGC program to include walking on a loose leash, sit, here, stay, down, and working in and around other dogs and people.  This course is particularly beneficial to set a foundation for young dogs and for those owners that want to work with their dog(s) but need the tools and guidance to develop and maintain an effective training regimen.  The class size is limited to five dogs to ensure that each owner and dog is getting the necessary "one-on-one" guidance and instruction they need to be successful.  
Please contact us so we can discuss your desires and develop a training program that meets your expectations.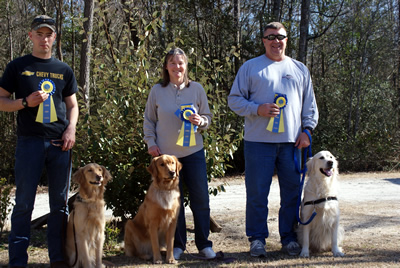 Excerpts From Client Letters:
Christmas has the best house manners…she is a pleasure. And she walks so well at the heel that I found myself too close to her! I've gotten adjusted to that. Christmas has made a move toward Bella on several occasions but stopped when telling her "leave it". It has been wonderful. Thank you so much for training her so well. If things slide backward, on my part, I know we can bring her back for a tune up so I don't even worry if I'm not doing everything perfectly. You have made the Vincent household a much happier place for all!
Wilmington, North Carolina
"Pink is really about the most ideal dog ever.  I forget she is still a puppy she is so well behaved.  She is doing very well with Dan and the kids , and has perfect house manners.  She is incredible."
Jacksonville, North Carolina
"Sampson is doing amazing!!! We have gone on a few walks and done some training in the front and back yard. He has only gone after one dog at the fence which I quickly corrected! Now he just sits and stares as they go by! I'm really enjoying him now!"
Jacksonville, North Carolina
To View Our Obedience Training Photo Album Click Here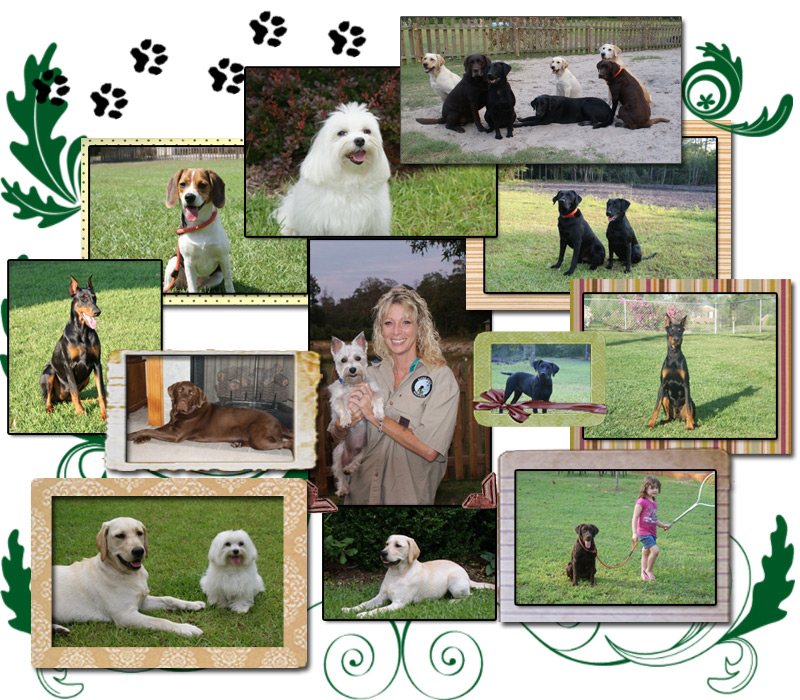 To View Our Obedience Training Photo Album Click Here